Thursday, February 4, 2021 - 6:00pm
East City Bookshop welcomes Matt de la Peña and Christian Robinson with their new picture book Milo Imagines the World in conversation with Minh Lê.
Tickets are available via Eventbrite here. Registration is required.
By registering for this event, you are agreeing to refrain from engaging in inappropriate behavior and harassment of any kind throughout the course of this event (i.e. racial slurs, profanity, hate speech, spam comments, etc.). Please note that any participants who engage in inappropriate behavior or harassment of any kind will be immediately ejected from this event.
About Milo Imagines the World
Milo Imagines the World by Matt de la Peña and illustrated by Christian Robinson is the latest collaboration from the dynamic team behind the Newbery Medal winner and Caldecott Honor book Last Stop on Market Street and the award-winning New York Times bestseller Carmela Full of Wishes. This picture book masterpiece follows a young boy named Milo and his sister as they take a long subway journey to see their incarcerated mother on visiting day. This beautiful story addresses a subject that is not often featured in children's literature with stirring, lyrical text that weaves a reminder that all of us are more alike than we first realize.
Like de la Peña and Robinson's previous collaborations, Milo Imagines the World presents a timely and beautiful story for today's families that is sure to become an instant classic. With a message that both kids and adults are sure to gravitate toward, Milo sits perfectly on the bookshelf alongside books that address social themes and those that reinforce the message that love binds a family.
About Matt de la Peña
Matt de la Peña is the Newbery Medal-winning author of Last Stop on Market Street. He is also the author of the award-winning picture books Carmela Full of Wishes, Love, and A Nation's Hope: The Story of Boxing Legend Joe Louis and seven critically acclaimed young-adult novels. Matt teaches creative writing and visits schools and colleges throughout the country. You can visit Matt at mattdelapena.com or on Twitter @mattdelapena.
About Christian Robinson
Christian Robinson received a Caldecott Honor and a Coretta Scott King Illustrator Honor for his art in Last Stop on Market Street. He is the author and illustrator of the picture books Another and You Matter, and he has illustrated many more, including Carmela Full of Wishes, the Gaston and Friends series, School's First Day of School, and The Smallest GIrl in the Smallest Grade. You can visit Christian at theartoffun.com or on Instagram @theartoffun.
About Minh Lê
Minh Lê is the author of the picture books Lift (a Washington Post Best Book of the Year), Drawn Together (winner of the 2019 Asian/Pacific American Award for Literature), Let Me Finish!, and The Perfect Seat (all published by Little, Brown Books for Young Readers). He also wrote Green Lantern: Legacy, his debut middle grade graphic novel for DC Comics. In addition to writing books, he has written for a variety of publications, including the New York Times, The Huffington Post, and NPR.
Outside of spending time with his wonderful wife and children at their home in San Diego, his favorite place to be is in the middle of a good book.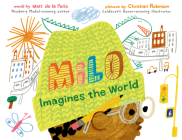 $18.99
ISBN: 9780399549083
Availability: On Our Shelves Now
Published: G.P. Putnam's Sons Books for Young Readers - February 2nd, 2021
---